Climate Science Seminar in Athens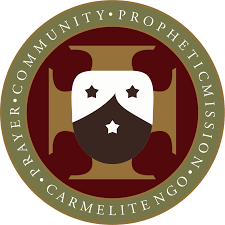 For a week in January, Dr Dennis Kalob, Manhattan College sociologist and Chief Administrative Officer of the Carmelite NGO, attended a climate science seminar held at the American College of Greece in Athens.
The seminar was led by noted climate researcher, Dr Ben Santer. Dr Santer is particularly known for being the convening lead author of Chapter 8 of the Intergovernmental Panel on Climate Change (IPCC) Group I Report of 1995.
25th Anniversary of Santa Cruz Massacre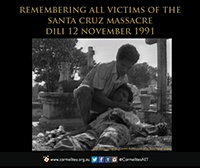 On 12 November 1991 more than 250 mainly young people were shot as they sought refuge in the Santa Cruz Cemetery, Dili. The pro-Independence demonstrators had begun a peaceful march from a local Church to the Cemetery. Pursued by Indonesian soldiers as they approach the Cemetery many sought refuge within its walls. An estimated 200 Indonesian soldiers opened fire on hundreds of unarmed civilians.
Brother Agedo Bento, a young Timorese Carmelite, and pdf Sister Susan Connelly (92 KB) , a Good Samaritan Sister, reflect on what happened that fateful day.
More JPIC Resources
Our Newsletter
Download our Justice, Peace & Integirty of Creation Newsletter
2017
pdf JPIC No 63 April 2017 (377 KB)
pdf JPIC No 62 March 2017 (1.07 MB)
pdf JPIC No 61 February 2017 (990 KB)
Click the link below to go to the international Carmelite NGO website

Promoting Justice and Peace In a Globalised World
from the International Meeting of Promotors of Justice & Peace, Lisbon August 2006
pdf The Lord Hears the Cry of the Poor
A reflection on poverty, the desert and the Carmelite charism

pdf The God of Our Contemplation
Exploring the connection between the Carmelite vocation and work for Justice and Peace


The Carmelite Commission for Justice, Peace & the Integrity of Creation
is an outreach of the Carmelite Friars
of the Province of Australia and Timor Leste