Our Newsletter - Latest Issue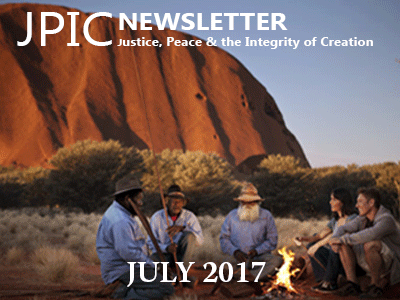 In July we join Indigenous First Nation Peoples to celebrate NAIDOC Week, reflecting on their gift to us.
It is essential to show special care for indigenous communities and their cultural traditions. For them, land is not a commodity but rather a gift from God and from their ancestors who rest there, a sacred space with which they need to interact if they are to maintain their identity and values. Laudato Si - Para 146
pdf (1.10 MB) pdf Read this issue (1.21 MB) | Other issues for this year are below

Carmelites join Timor Sea Justice Campaign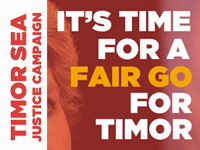 Gabrielle Fogarty, Chair of the Carmelite Justice, Peace & Integrity of Creation Commission, last week joined the Timor Sea Convergence held in Canberra. 'It was a privilege and an eye opener to meet some of these intrepid advocates for East Timor,' she said.
You can read the full story here
You can pdf download the printed petition (143 KB) to the Australian Government calling for a permanent maritime boarder between Australia and Timor here


Uluru Statement from the Heart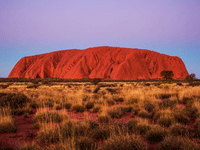 Indigenous leaders from across the country gathered from 23-26 May this year to discuss constitutional recognition of Aboriginal and Torres Strait Islanders. This First Nations Convention was the culmination of 12 regional dialogues held across the country.
You can pdf read the full statement (18 KB) from the Convention.


Pope calls for an end to arms trade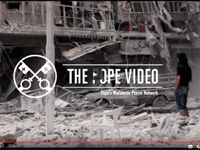 It is an absurd contradiction to speak of peace, to negotiate peace, and at the same time, promote or permit the arms trade.
Is this war or that war really a war to solve problems or is it a commercial war for selling weapons in illegal trade and so that the merchants of death get rich?
Let us put an end to this situation. Let us pray all together that national leaders may firmly commit themselves to ending the arms trade which victimizes so many innocent people. Pope Francis, June 2017
Carmelites tackle Trump on Paris Accord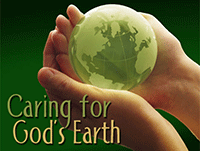 June 18 marks the second anniversary of the release of Laudato Si', On Care for Our Common Home. Leaders of all major religions stood shoulder to shoulder with Pope Francis as he announced his encyclical. One world leader stands alone in his ignorance regarding climate change, Donald Trump, 45th President of the United States.
Carmelites, Jane Remson and Eduardo Scarel, from the Carmelite NGO tackle Mr Trump on Climate Change and his withdrawal from the Paris Accord. pdf Read more (101 KB)
Carmelites call for decision on border with Timor-Leste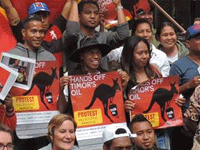 There is no border in the Timor Sea between Australia and Timor-Leste. A fair and permanent border, based on the median line, would allow both nations to claim what is rightfully theirs under international law.It would strengthen security and give certainty regarding investment. It would uphold the rights of nations to a defined and internationally accepted sovereignty.
You can sign a petition to the House of Representatives calling for a fair and permanent maritime boundary between Australia and Timor-Leste. The Petition will be online until 28 June.
More JPIC Resources
Click on the image to open the document
| | | | | | |
| --- | --- | --- | --- | --- | --- |
| | | | | | |
Our Newsletter - other issues in 2017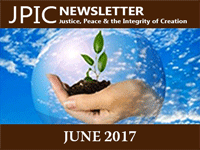 Geologist Peter Clarke reflects on the destructive use of fossil fuels for energy, and the challenge of Laudato Si to turn to a more renewable and sustainable future.
We know that technology, based on the use of highly polluting fossil fuels - especially coal, but also oil and to a lesser degree, gas, - needs to be progressively replaced without delay. Laudato Si - Care for Our Common Home - Para 165.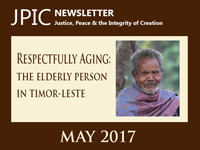 In this issue Br Agedo Bento, OCarm, reflects on the care of the eldely in the culture of Timor-Leste.
We must reawaken our collective sense of gratitude, appreciation and hospitality, helping the elderly know they are a living part of their communities and source of wisdom for the younger generations.
Pope Francis, March 2015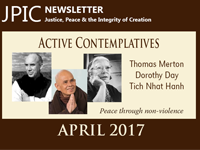 In this issue, Peter Thomas reflects on the lives of 'active contemplatives' like Thomas Merton, Dorothy Day, Martin Luther King and Tich Nhat Hanh and their work for peace.
"When victims of violence are able to resist the temptation to retaliate, they become the most credible promoters of nonviolent peacemaking ... To be true a follower of Jesus today also includes embracing his teaching about nonviolence." Pope Francis
Click the image below to go to the international Carmelite NGO website

pdf The Lord Hears the Cry of the Poor (902 KB)
A reflection on poverty, the desert and the Carmelite charism

pdf The God of Our Contemplation (902 KB)
Exploring the connection between the Carmelite vocation and work for Justice and Peace


The Carmelite Commission for Justice, Peace & the Integrity of Creation
is an outreach of the Carmelite Friars
of the Province of Australia and Timor Leste