Our Newsletter - Latest Issue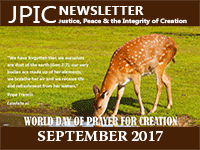 Deborah Guess writes about Radical Simplicity: Meditation and Ecological Care. 'Meditation' she says, 'can bring about a change of heart.' This change of heart is meaningless if it is not 'expressed in specific ecological action and in a simpler way of living.'
The ecological crisis is also a summons to profound interior conversion. Pope Francis - Laudato Si'
pdf Read this issue (1.13 MB) | Other issues for this year are below

Timor Sea Breakthrough!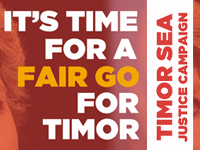 In what has been described as a "breakthrough" by the two governments, Australia and East Timor have reached an agreement for the framework of a new treaty that will finally set permanent maritime boundaries between the two countries. The Timor Sea Justice Campaign's spokesperson, Tom Clarke, welcomed the news but warned it was not yet a done deal.
Parishes at the service of mission | Paróquias ao serviço da missão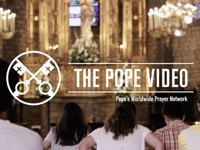 Parishes must be in contact with homes, with people's lives, with the life of society. They have to be houses where the door is always open so as to go forth toward others. And it is important that this going-forth follows a clear proposal of faith. The doors must be opened so that Jesus can go out with all of the joy of his message. Let us pray for our parishes, that they not be simple offices, but that animated by a missionary spirit, may be places where faith is communicated and charity is seen.
Watch the video (English) | Assista ao vídeo (Português)
We will not remain silently complicit ...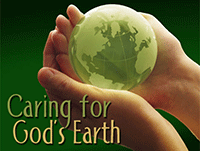 We will not remain silently complicit in the destruction of our common home. We urge our Carmelite Family to join us in a commitment to study, prayer and the performance of very simple gestures that will contribute to substantive change in our lifestyles. The culture of indifference is one of the key challenges within our communities and societies. Blessed Titus Brandsma, along with many other Carmelite saints, reminds us "We are not called to do great things. We are called to do the ordinary things in grand style."
Read the final message of the International Carmelite JPIC Congress
Uluru Statement from the Heart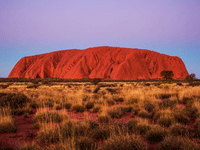 Indigenous leaders from across the country gathered from 23-26 May this year to discuss constitutional recognition of Aboriginal and Torres Strait Islanders. This First Nations Convention was the culmination of 12 regional dialogues held across the country.
You can pdf read the full statement (18 KB) from the Convention.


Pope prays for artists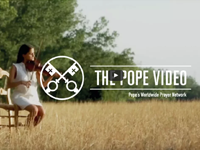 That artists of our time, through their creativity, may help us discover the beauty of creation.
"The arts give expression to the beauty of the faith and proclaim the Gospel message of the grandeur of God's creation. When we admire a work of art or a marvel of nature, we discover how everything speaks to us of Him and of His love. That artists of our time, through their creativity, may help us discover the beauty of creation".
More JPIC Resources
Click on the image to open the document
| | | | | | |
| --- | --- | --- | --- | --- | --- |
| | | | | | |
Our Newsletter - other issues in 2017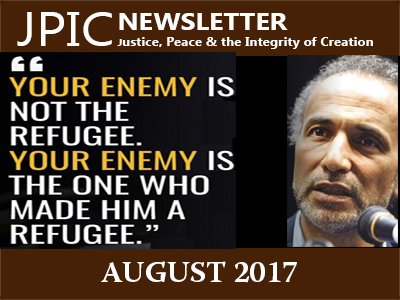 Peter Thomas asks the question, 'Who is my Neighbour?' in the context of the refugee crisis. "Contemplative awareness fosters clarity in conscience where the Gospel as a principle of love embraces the importance and preciousness of all people.
"It's hypocrisy to call yourself a Christian and chase away a refugee or someone seeking help, someone who is hungry or thirsty, toss out someone who is in need." Pope Francis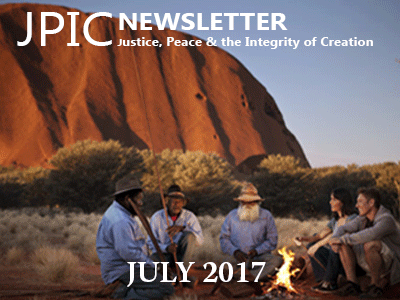 In July we join Indigenous First Nation Peoples to celebrate NAIDOC Week, reflecting on their gift to us.
It is essential to show special care for indigenous communities and their cultural traditions. For them, land is not a commodity but rather a gift from God and from their ancestors who rest there, a sacred space with which they need to interact if they are to maintain their identity and values. Laudato Si - Para 146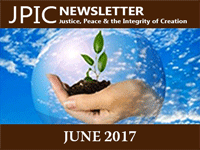 Geologist Peter Clarke reflects on the destructive use of fossil fuels for energy, and the challenge of Laudato Si to turn to a more renewable and sustainable future.
We know that technology, based on the use of highly polluting fossil fuels - especially coal, but also oil and to a lesser degree, gas, - needs to be progressively replaced without delay. Laudato Si - Care for Our Common Home - Para 165.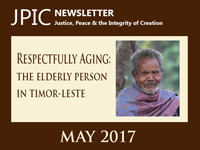 In this issue Br Agedo Bento, OCarm, reflects on the care of the eldely in the culture of Timor-Leste.
We must reawaken our collective sense of gratitude, appreciation and hospitality, helping the elderly know they are a living part of their communities and source of wisdom for the younger generations.
Pope Francis, March 2015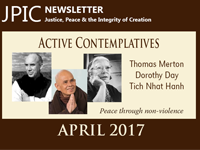 In this issue, Peter Thomas reflects on the lives of 'active contemplatives' like Thomas Merton, Dorothy Day, Martin Luther King and Tich Nhat Hanh and their work for peace.
"When victims of violence are able to resist the temptation to retaliate, they become the most credible promoters of nonviolent peacemaking ... To be true a follower of Jesus today also includes embracing his teaching about nonviolence." Pope Francis
Click the image below to go to the international Carmelite NGO website

pdf The Lord Hears the Cry of the Poor (902 KB)
A reflection on poverty, the desert and the Carmelite charism

pdf The God of Our Contemplation (902 KB)
Exploring the connection between the Carmelite vocation and work for Justice and Peace


The Carmelite Commission for Justice, Peace & the Integrity of Creation
is an outreach of the Carmelite Friars
of the Province of Australia and Timor Leste