Our Newsletter - Latest Issue
The Advent Season, moving towards Christmas, calls us to give prayerful attention to baby Jesus and his mother Mary. Peter Thomas, member of the JPIC Team, provides us with a reflection on Mary of Nazareth, the young girl and woman invited by God to fulfil this sacred role.
pdf JPIC No 82 December 2018 (941 KB)
2018 World Human Rights Day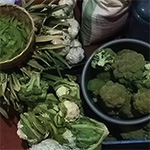 Seventy years ago, in the wake of the barbarities committed against whole races and nations, the United Nations agreed on The Charter of Human Rights. Throughout the succeeding years, some of these fundamental rights have been ignored and trampled upon when political expediency has been the motivating force.
World Human Rights Day is 10 December. Join us in praying those who lack the elements necessary to live a basic human life.
pdf Download your copy of the prayers. (1.66 MB)


Laudato Si' 3rd Anniversary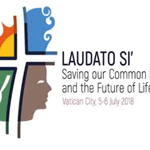 Watch a short video about the Vatican Conference held to celebrate the 3rd anniversay of Laudato Si'
Laudato Si' Curriculum for Seconday Education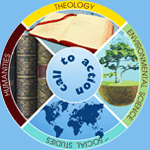 Read the latest issue of the Carmelite NGO newsletter featuring the development of an education program for secondary school students. The program was developed by the Carmelite NGO and Salpointe Catholic High School - a Carmelite school in Tucson, Arizona.
pdf Read the newslette (753 KB) r
Timor-Leste Election update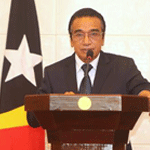 Having trouble understanding the recent elections in Timor-Leste? Want to know which parties have formed a coalition to govern? Read this article by Br Agedo Bento, OCarm.
A House of Mercy in Indonesia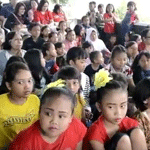 Thanks to collaboration between the Indonesian Carmelites and the Carmelite NGO Mercy House in Indonesia offers children from poor families a place to learn, develop and play. Mercy House is also home to abandoned elderly people where they receive care, dignity and a place to live for the rest of their lives. Find out more by watching the short video below.
Our History, Our Story, Our Future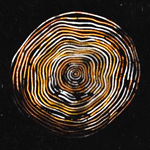 In every nation's story there are important moments—events and crossroads—that shape the chapters to come.
For all Australians this ancient land connects the stories of our past, our present and our future.
Watch video from reconciliation.org.au
The Crocodile and the Kangaroo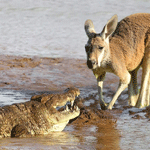 'The Crocodile and the Kangaroo' is the story of the relationship between Timor-Leste and Australia written by Br Agedo Bento, OCarm. The story is told by the Crocodile (national symbol of Timor-Leste) and the Kangaroo (national symbol of Australia). It focusses on the negotiations between Timor-Leste and Australia over a just share of oil and gas reserves in the Timor Sea.
Click the play button below.
The Mission of the Laity | A missão dos leigos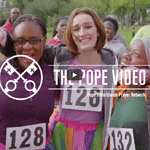 Lay people are on the front line of the life of the Church. We need their testimony regarding the truth of the Gospel and their example of expressing their faith by practicing solidarity.Let us give thanks for the lay people who take risks, who are not afraid and who offer reasons for hope to the poorest, to the excluded, to the marginalized. Let us pray together this month that the lay faithful may fulfill their specific mission, the mission that they received in Baptism, putting their creativity at the service of the challenges of today's world.
Watch the video (English) | Assista ao vídeo (Português)
We will not remain silently complicit ...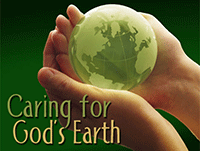 We will not remain silently complicit in the destruction of our common home. We urge our Carmelite Family to join us in a commitment to study, prayer and the performance of very simple gestures that will contribute to substantive change in our lifestyles. The culture of indifference is one of the key challenges within our communities and societies. Blessed Titus Brandsma, along with many other Carmelite saints, reminds us "We are not called to do great things. We are called to do the ordinary things in grand style."
Read the final message of the International Carmelite JPIC Congress
Uluru Statement from the Heart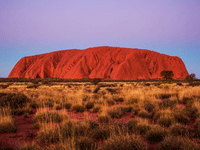 Indigenous leaders from across the country gathered from 23-26 May this year to discuss constitutional recognition of Aboriginal and Torres Strait Islanders. This First Nations Convention was the culmination of 12 regional dialogues held across the country.
You can pdf read the full statement (18 KB) from the Convention.


More JPIC Resources
Click on the image to open the document
| | | | | | |
| --- | --- | --- | --- | --- | --- |
| | | | | | |
Our Newsletter - other issues in 2018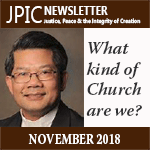 What kind of Church are we? Bishop Vincent Long asks this question in an address on the role of the Faithful in a post-Royal Commission Church in Australia. Fr Paul Cahill (Prior Provincial) offers some insights and comments on Bishop Long's address.
pdf JPIC No 81 November 2018 (946 KB)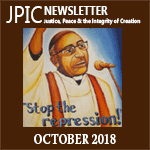 The vocation to pursue justice is not simply an individual task. It is a call for all of us to work with others to humanize and shape the institutions that touch so many people. Justice in the world can best be carried forward as members of a community called to be the "leaven" of the gospel.
Archbishop Oscar Romero of San Salvador, an icon of justice for the poor and oppressed, will be canonised on 14 October.
pdf JPIC No 80 October 2018
(1.04 MB)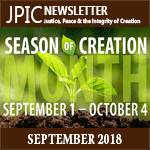 Spring is upon us and during this month of September we celebrate the international, multifaith Seasons of Creation.
There are many ways to celebrate: prayer, walking or meditating in nature, joining in discussion about Laudato Si, improving our recycling habits, the list is endless.
pdf JPIC No 79 September 2018 (1.18 MB)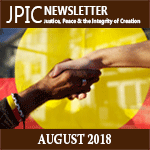 This month Pia Pagotto contributes her thoughts to our JPIC Newsletter, based on her own experiences, observing that community attitudes towards our First Nation people are gradually changing. Are we detecting a movement of compassionate understanding and acceptance to recognise their rightful place in our nation's history and its future? What can we do to walk with them?
pdf JPIC No 78 August 2018 (1.20 MB)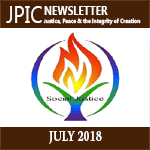 Peter Thomas, of the JPIC Team, shares his thoughts on JUSTICE ... "Justice is at the cutting edge of the Christian calling, a requirement without which love becomes pure sentimentality."
pdf JPIC No 77 July 2018 (1.01 MB)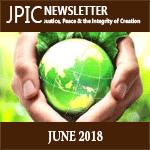 Contemplating our Care for Creation. This month Anglican Priest, Rev. Linda Chapman, shares with us her reflections on Laudato Si'. "The ecological crisis is a spiritual crisis of humanity as we are living in a way that degrades our environment.This reflection explores a possible way of recovering a sense of our human vocation as creatures gifted with life."
United Nations World Environment Day is on Tuesday 5 June.
pdf JPIC No 76 June 2018 (1.07 MB)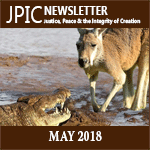 We offer you our May newsletter in a slightly different format!
The symbols of Australia and Timor-Leste are used to illustrate the difficulties encountered by our neighbour Timor-Leste in developing its independence and the struggle for recognition of its sovereignty over maritime borders.
This is a story you can listen to or read. To listen, click the play button in the Crocodile and the Kangaroo story above.
pdf JPIC No 75 May 2018 (1.16 MB)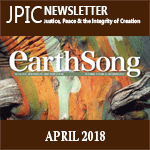 This month we are celebrating the gift of the Earthsong Library to the Carmelite Library in Middle Park. "This donation is a great responsibility and a great potential learning experience, enabling the Library to be
the best ecospirituality library in Melbourne."
Today, as we take risks for the sake of something greater than our separate, individual lives, we are feeling graced by other beings and by Earth itself.
Joanna Macy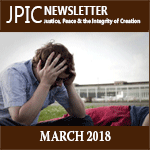 This month Peter Thomas looks at 'Our Forgotten People' and the connection between mental illness and homelessness.
The Australian Bureau of Statistics (ABS) estimates that 105,000 Australians are homeless on any given night and a high proportion of these people have a mental illness. Some estimates are as high as 75%.
Peter Thomas
With a listening heart and confidence we approach the still small voice of the Spirit of God to respond to today's challenges, commencing this new year with a focus on our search for peace. Peter Clark leads us in reflection on peace using the Carmelite perspective.
To all people of good will who are working for social justice: never tire of working for a more just world, marked by greater solidarity!
Pope Francis
Click the image below to go to the international Carmelite NGO website

pdf The Lord Hears the Cry of the Poor (902 KB)
A reflection on poverty, the desert and the Carmelite charism

pdf The God of Our Contemplation (902 KB)
Exploring the connection between the Carmelite vocation and work for Justice and Peace


The Carmelite Commission for Justice, Peace & the Integrity of Creation
is an outreach of the Carmelite Friars
of the Province of Australia and Timor-Leste