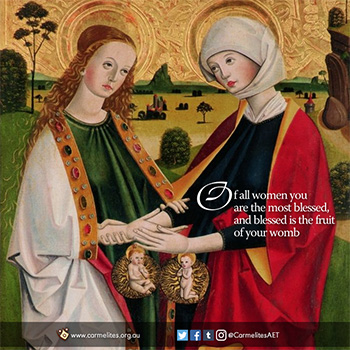 The Christmas feast grows ever near.
As always in Advent, the first reading proclaims the promise and the Gospel shows its fulfilment.
Today the first reading proclaims a Messiah, a shepherd-king, who will feed his flock with the strength and the majesty of God. He will bring security and peace to God's people.
The gospel of the 'visitation' is the meeting between the two pregnant cousins, Elizabeth and Mary. It is a meeting filled with excitement, joy, wonder and love. God dwells in them both. Their children, John the Baptist and Jesus, are the fulfilment of God's promise of salvation for his people.
Drawing always on the gift of the Holy Spirit in us, we, like Mary, conceive the Lord in our hearts and make him present in our lives for the healing and salvation of our brothers and sisters; that God's kindness and love may be seen and experienced by all who cross our path.
Our Advent journey has called us to: stay awake to the coming of God, prepare to receive the Lord more deeply, rejoice that he is with us and within us, receive him more fully into our lives.
At Christmas we hear the call to give Christ birth in word and action so that the saving power of God may be seen and experienced in the world in our every thought, word and action.
As, year by year, we travel the liturgical journey of the Church's feasts and seasons we touch ever more deeply the living presence of Christ in us and become ever more deeply the living presence of the risen Christ in the world.