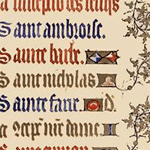 Mass prayers and readings for Carmelite celebrations are now included in the latest update of the Universalis app for your smart phone and tablet.
The addition of these texts means that nearly all the texts for Carmelite liturgical celebrations are now available on smart phone or tablet. The addition of these mass texts has been part of an ongoing collaboration between Carmelite Communications and Universalis to make the Carmelite calendar, breviary and mass texts (in English) available on mobile devices.
The availability of these Carmelite prayer texts on phone and tablet means easier access and convenience for those who pray the Carmelite liturgy. Among those who will benefit from the availability of these texts are those who are travelling and those who experience reduced vision.
How to pray the Carmelite liturgy with Universalis
If you don't have the Universalis app go to the Apple Store (for iPhone or iPad) or Google Play (for android smart phones) and follow the instructions to download it. Cost is around $15.00 from the Apple Store or $20.00 from Google Play.
If you already use the Universalis app, ensure you update it to the latest version. Open the app and tap on the calendar icon. Tap on 'Australia' then 'Religious Order' and choose 'Carmelite (O.Carm)'. Tap 'Done' on the next screen. The Carmelite Calendar will automatically integrate with the Australian Calendar.
Did you spot a mistake?
If you notice a mistake in the Carmelite texts on the Universalis app, please contact This email address is being protected from spambots. You need JavaScript enabled to view it. at Carmelite Communications.