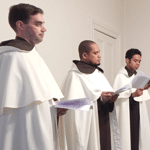 Brothers Albino Dos Santos, Marcolino Gomes and Matthew Tonini made their Solemn Profession (life-long commitment) as Carmelites on 16 July during Mass in the Community Chapel at Middle Park (VIC). Due to Coronavirus restrictions we were unable to have a larger, public celebration of this significant milestone for these brothers. Fr Paul Cahill was the celebrant and Brs José Freitas and Anacleto Guterres Da Costa provided the music. The readings were read by Marcolino and Albino and Matthew sang the psalm. Fr Matthew McPhee read the Gospel.
During his homily Fr Paul reflected on the significance of the 'little cloud of hope' mentioned in the first reading from the Book of Kings. During these times when we are confronted with and surrounded by so much darkness, we like Elijah, look for those things which will sustain us. We draw our hope from Elijah the prophet, and Mary our sister, who sustain us in our following of Jesus Christ as Carmelites and as we seek to be of service to the people of the world.
Congratulations Albino, Marco and Matthew!