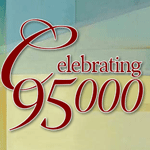 Over the last month another 4,128 people have joined our Facebook family bringing the total today to 95,998 followers!
Our recent post celebrating 95,000 followers reached 107,863 people. We are very pleased to acknowledge Jorge Cocco who has given us permission to use his religious artwork in our posts free of charge.
Find us on Facebook @carmelitesAET and click on 'follow' so you can see all our posts in your news feed.