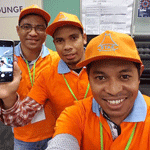 During the recent elections for a new government in Timor-Leste some of our young Carmelites were chosen to be electoral officials.
Brs Agedo Bento, Avelino Dos Santos and Agostinho Dos Santos were among 17 officials who supervised the election in Melbourne, counted ballots and assisted voters.
The Alliance for Change and Progress coalition led by Xanana Gusmão won 34 of the 65 seats in the national parliament.