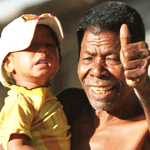 Blessed are you, Lord and Father of all life;
You have given us the gift of the fathers of our families.
Today we honour them,
and we thank you for the numerous good things
that are ours because of them.
Their love for us has been a sign of your love for us.
Their continuous concern for our needs and welfare
mirrors care for us.
Bless our fathers who are separated from us by silence, injury or violence.
Lift the burdens of guilt and touch us with your healing and forgiveness.
We remember with love our fathers who are now with you.
May they who have shared their very life with us,
live forever with you, our God.
Bless our fathers this day with strength, happiness and good health.
May this blessing and all graces, we pray, descend upon our fathers:
in your name, Father, Son, and Holy Spirit.
Amen.