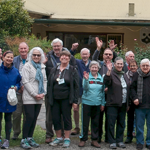 On 8-10 November 32 pilgrims, led by Paul Sireh OCarm and Denis Andrew OCarm, braved the cold and wet Melbourne weather to walk along the Yarra Valley Rail Trail for the tenth Annual Carmelite Way pilgrimage. In spite of the weather forecast for very wet days we managed to stay fairly dry and in fact it was wonderful walking weather. Like previous years we are very grateful for the contribution of Sacred Heart Bethlehem community and Whitefriars College for the use of buses and the reliable bus drivers, Rob and David who have generously served us for some years now. The weekend cannot happen without the contribution of buses and drivers.
We had 14 new pilgrims and feedback indicates they felt welcomed to the group. Fr Ken and Sr Kath from Sancta Sophia again welcomed us to the valley at Mt Evelyn where we all huddled under a small rotunda for reflection while the rain poured down. How delightful it was as we finished our prayer time that the sun came out and on we walked for the rest of the day to meet the buses and travel to our accommodation at Pallotti College Millgrove.
On the first evening after dinner Sally Diserio led a reflective talk on aspects of the pilgrimage during the last ten years. Sally captured experiences over the years and also noted the increasing understanding of the regulars of the true meaning of pilgrimage – more than just a bushwalk and offers a true retreat style experience at whatever level you desire.
On the first evening we also enjoyed music and singing led by Andrew Lezala, one of the pilgrims.
The second day offered pilgrims a variety of stopping points depending on how far they wanted to walk. Our trusty bus drivers were available at stopping points at 12 km and 18 km. Almost half the group walked all the way back to Pallotti on the second day which is approximately 25 km from the starting point for that day.
On the second evening Fr Paul led us in a reflection on Carmelite Spirituality as a journey symbolised by the scallop shell which we all carried on our backpacks or around our necks. Fr Paul reminded us of the rippling or groove of the shell making it easy to spot fellow pilgrims on the journey and how this has a rippling effect on us towards others and God. When talking about the early Carmelites Fr Paul said they too were pilgrims and we continue this journey today. To finish we listened to a John of the Cross poem put to music by Loreena McKennitt https://www.youtube.com/watch?v=_MnEwaSdlnk
There was much music shared during this weekend including on the second evening with Arthur and Gai (two pilgrims from previous years) playing the Celtic harp, guitar and an oud type instrument. This was very special and we were also entertained by Arthur's song about the Enneagram which he has discovered through his association with Sancta Sophia https://www.youtube.com/watch?v=sbHYJQse0Eo
On Sunday we walked to Sancta Sophia in time for our Mass together at 11am which was followed by a picnic lunch provided by Pallotti College. The main celebrant was Fr Paul and assisted by Fr Ken. After an enjoyable lunch together we made our way back to Lilydale station for the journey home.
Irene Hayes