There are many famous Carmelites who have influenced generations of spiritual seekers throughout the Order's history. Here are just some of them.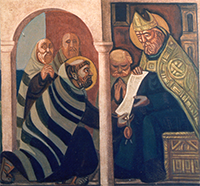 Saint Albert of Jerusalem was born in Emilia, Italy in the mid 12th Century. He became a Canon Regular of the Holy Cross at Mortara (Pavia) where he was elected Prior in 1180. He was appointed Bishop of Bobbio in 1184 and of Vercelli the following year. During his 20 years there he undertook a number of missions of national and international importance. He brokered peace between the cities of Pavia and Milan in 1194 and between the cities of Parma and Piacenza in 1199. In 1191 he held a Diocesan Synod, the statutes and decrees of which continued to serve as a norm until modern times.
In 1205 he was elected Patriarch of Jerusalem and soon after nominated as papal legate for the ecclesiastical province of Jerusalem. He arrived in Palestine early in 1206, taking up residence at Acre, at the foot of Mount Carmel, as Jerusalem was occupied by the Saracens. In Palestine he continued his peace-making efforts not only between Christians but also between them and non-Christians.
On 14 September 1214 he was stabbed to death during a procession to celebrate the Feast of the Exaltation of the Cross by the Master of the Hospital of the Holy Spirit whom Albert had denounced for his unjust and abusive behaviour.
Somewhere between his arrival in Palestine in 1206 and his death in 1214 the first group of Carmelites asked Albert to write for them a "formula of life" which later became the Carmelite Rule approved by Pope Innocent VI in 1247.

Saint Teresa of Avila, who almost single handedly reformed the order in the 16th century, was responsible for the establishment of the Discalced Carmelites in the latter part of the century. Her life was a colourful and supernatural series of events that had amazed and awed observers and followers of the order for centuries. Teresa was born in Avila in Spain in 1515. She entered the Carmelites and made great progress in the way of perfection and was granted mystical revelations. Wishing to share in the spiritual renewal of the Church of her time, she began to live her religious life more ardently and soon attracted many companions, to whom she was like a mother. She also helped in the reform of the friars with Saint John of the Cross, and in this had to endure great trials. She wrote books which are renowned for their depth of doctrine and which showed her own spiritual experiences. She died at Alba de Tormes in 1582. In 1970 Teresa was declared a Doctor of the Church by Pope Paul VI.

Saint John of the Cross was born at Fontiveros in Spain about 1542. He entered the Carmelites and with the permission of his superiors began to live a stricter life. Later he was persuaded by St Teresa to begin, together with some others, a reform within the Carmelite friars which cost him much hard work and many trials. He died in Ubeda in 1591, outstanding in holiness and wisdom, to which his many spiritual writings give eloquent witness. His writings were first published in 1618. After his death the reform he introduced within the friars eventually separated from the Carmelite Order to become the Order of Discalced Carmelite Friars. John was canonised in 1726 and declared a Doctor of the Church in 1926.
Famous Carmelites of the 20th Century include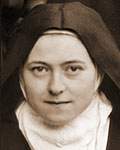 Saint Therese of Lisieux, one of only four women Doctors of the Church, so named because of her famous teaching on the 'way of confidence and love' set forth in her best-selling memoir, 'Story of a Soul'. Thérèse Martin was born in Alencon in France in 1873. Whilst still young she entered the Discalced Carmel of Lisieux, where she lived - as Sister Thérèse of the Child Jesus and the Holy Face - in the greatest humility and evangelical simplicity and confidence in God. By word and example she taught the novices these same virtues.
Offering her life for the salvation of souls and the spread of the Church, she died on 30 September 1897. She was 24 years old. She was declared a Doctor of the Church in 1997.

Blessed Titus Brandsma, a Dutch scholar and writer who was killed in Dachau Concentration Camp because of his stance against Nazism. Born at Bolsward (The Netherlands) in 1881, Titus joined the Carmelite Order as a young man. Ordained priest in 1905, he obtained a doctorate in philosophy in Rome. He then taught in various schools in Holland and was named professor of philosophy and of the history of mysticism in the Catholic University of Nijmegen where he also served as Rector. He was noted for his constant availability to everyone and for his concern for his students for whom he collected food, clothing and blankets.
He was a professional journalist, and in 1935 he was appointed ecclesiastical advisor to Catholic journalists. Both before and during the Nazi occupation of The Netherlands he fought, faithful to the Gospel, against the spread of the Nazi ideology and for the freedom of Catholic Education and the Catholic Press. For this he was arrested and sent to a succession of prisons and concentration camps where he brought comfort and peace to his fellow prisoners and did good even to his tormentors. In 1942, after much suffering and many humiliations, he was killed by lethal injection at Dachau. He was beatified by John Paul II on 3 November 1985.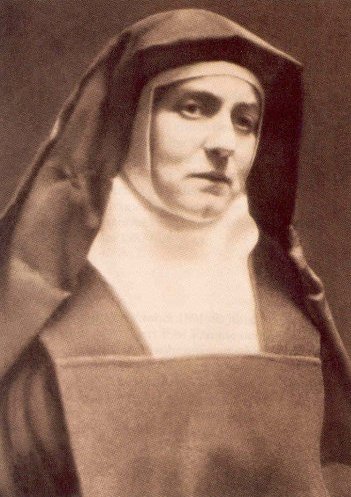 Saint Teresa Benedicta of the Cross, a Jewish convert to Catholicism who was also imprisoned and died at Auschwitz. Edith Stein was born to a Jewish family at Breslau on 12 October 1891. Through her passionate study of philosophy she searched after truth and found it in reading the autobiography of St Teresa of Jesus (Avila). In 1922 she was baptised and in 1933 she entered the Carmel of Cologne where she took the name Teresa Benedicta of the Cross. She was gassed and cremated at Auschwitz on 9 August 1942 during the Nazi persecution and died a martyr for the Christian faith after having offered her holocaust for the people of Israel. A woman of singular intelligence and learning, she left behind a body of writing notible for its doctrinal richness and profound spirituality. She was beatified by Pope John Paul II at Cologne on 1st May 1987, and canonised by him in 1998. In 1999 she was declared one of the six patron saints of Europe.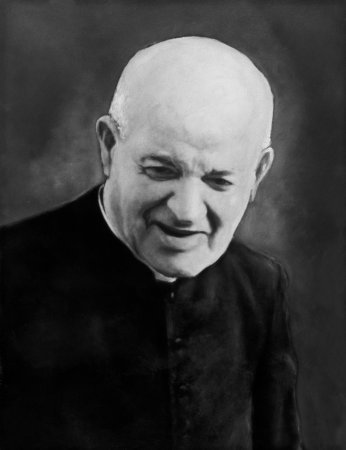 Saint George Preca was born in Valletta, Malta, on 12 February 1880. Ordained priest in 1906, he immediately began working with young people. In 1907 he founded the Society of Christian Doctrine, commonly known as M.U.S.E.U.M. (Magister Unitam Sequatur Evangelium Universus Mundus). He dedicated his life to preaching and teaching. His effective ministry was the fruit of a life of prayer and constant meditation on the Sacred Scriptures. On 21st July 1918, Fr George was received into the Carmelite Third Order and one year later, on 26th July 1919, he made his profession. In 1952 he was 'affiliated' to the Order as a recognition of his efforts to spread devotion to the Blessed Virgin Mary under the title of Our Lady of Mount Carmel. He died on 2nd July 1961 and was beatified by Pope John Paul II on 9 May 2001, and canonised by Pope Benedict XVI on 3 June 2007. His canonisation made Saint George the first member of the Carmelite Third Order to be formally recognised by the Church as a saint.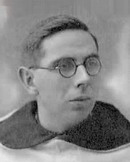 Blessed Hilary Januszewski was a Polish Carmelite born on 11 June 1907 and joined the Carmelites in September 1927. Following his studies and ordination in Rome he was appointed lecturer in Dogmatic Theology and in Church History for the students of the Polish province in Krakow. In 1939 he was appointed Prior of that community. World War II was to jeopardise all the hopes and projects of the young prior. On 1 September 1939, after several months of widespread international tension, Germany declared war on Poland. Twenty days later, Soviet troops launched an attack from the East. A year after the invasion, the invading forces ordered the arrest of large numbers of monks and priests. On 18 September five Carmelites were arrested including Fr Hilary, who offered to go instead of Fr Konoba, who was older than him and sick. In the concentration camp at Dachau he volunteered to look after prisoners suffering from typhus in the infamous Hut 25. After 21 days serving the sick, he died of typhus. Read the full story of Fr Hilary.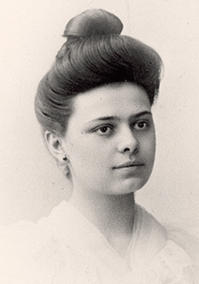 St Elizabeth of the Trinity was born on 18 July 1880. As a young child she earned a reputation as an incessant chatterbox and vivacious crawler. She was strong-willed and determined. As she grew up she became known for her generous and loveable nature. She was an excellent musician whose concerts won critical acclaim. At the same time her awareness of God began to grow. In the midst of a busy social life she managed to find time to help with troubled youth and seemed to radiate the presence of God wherever she went. She entered the Carmelite Convent at Dijon in 1901. She was given the name 'Elizabeth of the Trinity'. Here she grew in the Carmelite attributes of reflective prayer, living in the present moment, loving God wholeheartedly and serving others with simplicity. Much like St Therese of Lisieux, Elizabeth's way was one of simple conversation with God and a deep, abiding awareness of God's presence within. Read the full story of St Elizabeth of the Trinity.