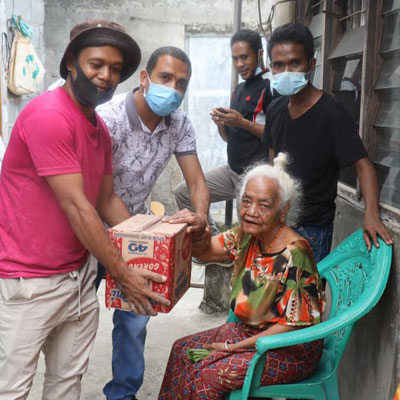 Over the Easter weekend this year, Cyclone Seroja hit Timor causing extensive flooding in Dili and storm damage in communities throughout the country. With generous donations from Australia and around the world, we have been able to respond with several projects implemented through Carmel Impact.
A primary focus of our response to the floods was immediate and direct support to flood victims and their families. Our Carmelite brothers assisted and visited over 2,000 people across 500 households during the initial weeks of the disaster response.
In Hera, this included taking responsibility for one displaced person's camp where several families sheltered for many weeks while they worked to clean up their houses so they could return home. In both Hera and Dili, Carmelites did outreach work, visiting flood-affected households, distributing emergency supplies of food, water, clothes, bedding and cooking utensils, and coordinating with other local relief efforts to ensure no-one fell through the gaps.
As the initial emergency relief situation subsided and many families were able to return home, our Carmelites in Hera identified 23 households in their communities who had more significant needs that weren't being met by the government response. These families are currently being provided with building materials such as cement, gravel, steel poles, tin sheets for roofing, and tools to assist them in the process of rebuilding either part or all of their home.
One such family is Mr Silveiro, who lives in Hera with 9 other members of his family, including some of his children and grandchildren. Parts of his house were destroyed by the floods and they have set up a makeshift temporary shelter. Silveiro will use the building materials he has received from the Carmelites and work with his relatives to fix up their house together so the family can live there again. Donate here