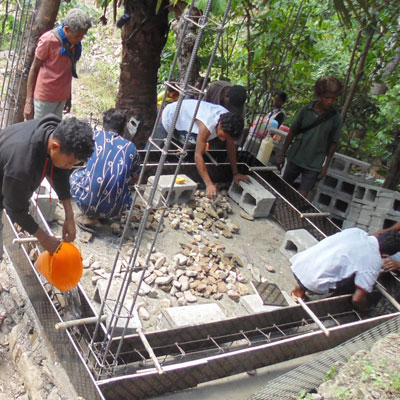 Flood waters rushed through Dili and neighbouring areas during the Easter long weekend this year. The floods caused by Cyclone Seroja was reported widely in Australia, with over 25,000 households displaced from their homes and 45 fatalities. Susan is a small hamlet situated in Hera, on the outskirts of the capital city Dili and was also impacted by the cyclone. It is home to 12 households and 80 people. Susan hamlet has a river running through it and as a result of the floods, several homes built on the banks of the river were completed washed away.
Through our Carmel Impact charity and with the support of donors from Australia and around the world, the Carmelites in Timor-Leste have been able to provide substantial support to the Susan community. In addition to providing initial emergency relief, and then identifying and assisting individual households through the Support for Affected Families project, the Carmelites have worked closely with Susan community leaders to design and implement a water project.
In the aftermath of the flood, this community's main priority was fixing their water supply. It was a simple above ground pipe system that transferred water from an underground spring on a hill in the bush, down to several public tap stands on the main road where families then collected water to carry to their homes. When the flood waters came through, most of the existing water system was washed away, leaving these families with no water supply for washing and cooking.
Over several weeks, Carmelite brothers and students have worked together with the local community to not only rebuild their water system but improve it. They have replaced all the pipes and built two new large cement water tanks. This provides the community with some water security, as in the past they would have no water for some time each year when the spring temporarily dried up before the next wet season started. Donate here