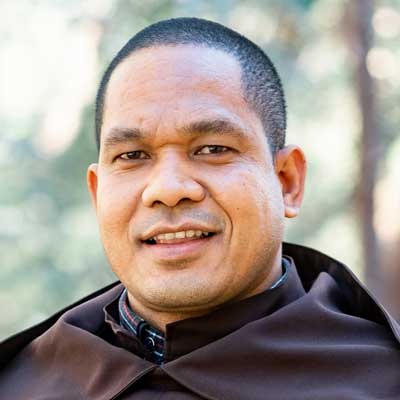 From Luro in Timor-Leste, Albino completed an agribusiness course before joining the Carmelites in September 2008 as a pre-Novice, firstly in Zumalai and then in Fatuhada. Two years later he began the Novitiate at Hera, making his first profession of vows as a Carmelite in 2012. During the Novitiate, Albino says, he really 'fell in love' with being a Carmelite.
For the next 4 years Albino studied Philosophy before coming to Australia in 2016. After English Language studies, he began the Bachelor of Theology Degree at the University of Divinity, Melbourne, graduating in 2020. Albino is currently completing a Masters of Theological Studies Degree. He made his Solemn Profession of Vows in July 2020 together with Marcolino Gomes and Matthew Tonini. Albino will be ordained a Deacon by Bishop Anthony Ireland on 20 November 2021 at Our Lady of Mount Carmel Church, Middle Park, Victoria.
You are warmly welcome to join us in person for the Ordination. Please RSVP to This email address is being protected from spambots. You need JavaScript enabled to view it. or phone (03) 9699 1922. Due to Victorian Government requirements, you must be fully vaccinated to attend, and wear a mask.
You can also join us via livestream (youtu.be/u0LPqKNNLrU).