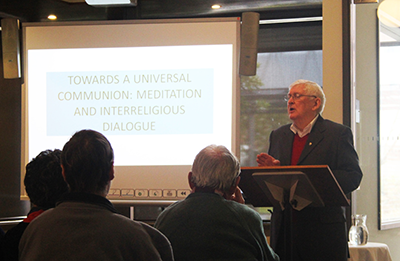 Story by Catherine Sheehan, Media & Communications Office, Archdiocese of Melbourne 27 May 2016
THE CARMELITE Centre in Middle Park is currently holding a three day symposium on Creation Spirituality, inspired by Pope Francis' encyclical, Laudato Si'. The symposium began yesterday with Philip Harvey, Librarian at the Carmelite Centre, giving a brief welcoming address to the attendees. Mr Harvey drew upon the Pope's reference to the earth as a 'home for everyone', saying that the context for the symposium is that we 'fall into awareness' regarding the need to care for creation.
Fr Ken Petersen, OCarm., Co-Director and Co-Founder of Sancta Sophia Meditation Community in Warburton, gave the first presentation titled 'Towards a universal communion: meditation and interreligious dialogue'. Fr Petersen began by leading the group through a ten minute meditation session, creating a relaxed and calm atmosphere. He said that the purpose of meditation is to train the mind in patience, awareness, loving kindness, compassion, letting go, and generosity of spirit. Fr Petersen spoke of care and respect for creation as something that is promoted in other religions also, such as Hinduism and Buddhism, and therefore as common ground for interreligious dialogue.
Fr Petersen referred to having a 'contemplative eye on the whole of creation' and he quoted St Augustine of Hippo, who wrote of his own observations of created things: 'My questioning was my observing of them; and their beauty was their reply.'
Echoing Pope Francis, Fr Petersen also spoke of the need to change ourselves first before we can help the environment. He also stressed the importance of being 'in the present moment', and of recognising 'the unity of all experience', or as Pope Francis put it, the 'interconnectedness' of everything in creation.
Dr Geoff Lacey, an honorary senior fellow in the School of Geography at Melbourne University, then spoke on the topic, 'Towards ecological conversion: a response to
Laudato Si'. Dr Lacey detailed his own research into the land systems around Melbourne including the local river systems and native plants and wildlife. He referred to the need for 'sustainable and equitable living' and he said that 'engagement with the land is the key'.
'The landscape is full of power and meaning,' Dr Lacey said. He quoted Pope Francis who urged people in Laudato Si' to 'discover God in all things' and to recognise that, 'there is a mystical meaning to be found in a leaf, in a mountain trail, in a dewdrop, in a poor person's face.'
The first session of the symposium was brought to a close with a final address from lay Carmelite Gabrielle Fogarty who spoke of the Carmelite focus on prayer, community and service in reference to putting into action the ideas in Laudato Si'. She spoke of the need for both contemplation and action, and for peaceful activism in promoting care for creation.
Last night the keynote speaker, Professor Denis Edwards, a professorial fellow in theology at the Australian Catholic University, addressed those gathered on the topic, 'Deep incarnation: the meaning of incarnation for the natural world'.

The symposium is continuing today and will conclude tomorrow with an internal retreat.
Story & Photos by Catherine Sheehan, Media & Communications Office, Archdiocese of Melbourne
Over 75 people attended the Symposium which was run in conjunction with the Carmelite Library.