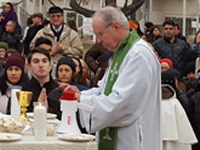 American Carmelite, Fr Quinn Conners, celebrated Mass outside the White House in solidarity with refugees. Also present were young Carmelites from the Carmelite Student House in Washington.
The following article appeared on the America Magazine website

By Teresa Donnellan, America Magazine

'All are welcome in this place,' a crowd of people sang in Lafayette Square outside of the White House this afternoon. More than 550 people gathered to attend a Mass organized by young Catholics and celebrated by (Carmelite) Father Quinn Conners in Washington, D.C., to express their solidarity with refugees and immigrants.

The event was a result of grass-roots organization and social media promotion. After President Donald J. Trump signed an executive order banning immigrants from Iran, Iraq, Libya, Somalia, Sudan, Syria and Yemen, Emily Conron and her friend Christopher Hale decided to coordinate a Mass to show a Catholic response to this form of religious discrimination.
'As Catholics we understand what religious persecution is,' said Ms Conron. 'It's part of our history. We've seen it in so many Catholic communities in so many countries, and we're not willing to let history repeat itself. So we felt it was important for specifically Catholics to come together and show solidarity. And what better way to do that than in the Mass?'

'It was a powerful experience, and I hope it buoyed everybody's spirits because I know it buoyed ours,' said Laura Peralta-Schulte, who attended the Mass with her prayer group.

After the Mass, Mr Hale thanked attendees for coming; saying that while there are 535 members of Congress, over 550 people had come out to pray tonight.

'I think that is communicative of how passionate Catholics are about persecuted religious minorities,' Mr Hale said. 'We know that experience as Catholics both in the United States and where we came from, so it's part of the Catholic blood to protect immigrants and refugees.'

In his letter to President Trump last week, Pope Francis wrote, 'Under your leadership, may America's stature continue to be measured above all by its concern for the poor, the outcast and those in need who, like Lazarus, stand before our door.' The Mass this evening outside of the White House represented that concern for the marginalized and echoed the pope's prayer for President Trump.

Read the full article on America Magazine