As the families of victims of the al Noor and Linwood Mosque massacres prepare to bury their loved ones and help each other heal, our thoughts and prayers go out to them. The Carmelite NGO has released a special prayer written by Fr Franciscus Ardji, OCarm.
The Carmelites of Australia and Timor-Leste are united in offering our prayers of support and consolation that our compassionate God will bring healing to our Muslim brothers and sisters and the whole of the New Zealand nation.
Prayer in Solidarity With the Victims of Hatred in New Zealand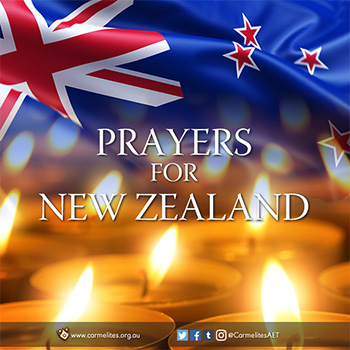 O Lord, my God, it is really terrifying to listen to the news of the mass shooting that happened in al Noor Mosque and Linwood Mosque in Christchurch, New Zealand.
It is really sad to know that our Muslim sisters and brothers were killed and injured in this incident.
It is really frightening to realize that people kill each other by using your name. May the victims rest in peace and may their families be strengthened to face this horrific reality.
O Lord, my God, please touch us so that we may be healed from our past religious wounds. Help us purify our religious behaviour from the recurrent temptation to judge others as enemies and adversaries.
Please teach us so that we may promote friendship and respect between men and women of different religious traditions.
Please guide us so that we may develop an attitude of openness in truth and love in constructive dialogue with believers of different religions, despite the various obstacles and difficulties.
Finally, please help us so that we may walk hand in hand to build a better and peaceful future together. Amen.
Franciscus Ardji, OCarm.