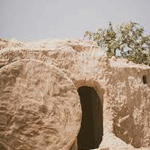 The Carmelites of Australia and Timor-Leste wish you a very Happy Easter as we celebrate the Resurrection.
Throughout the Easter Season we will remember you and your family in the masses and prayers celebrated in the National Shrine of Our Lady of Mount Carmel at Middle Park (VIC).
May the power of the Risen Christ continue to heal us and make us his Body.