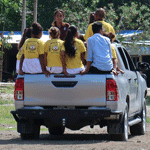 Zumalai is situated in one of the most remote and mountainous parts of Timor-Leste. During the wet season roads become dangerously slippery, covered in thick mud, and sometimes impacted by landslides or floods.
To provide spiritual and pastoral support to over 13,000 people, many of them in remote and isolated villages, requires a sturdy all-terrain ute. Thanks to the Loyola Foundation and Mission Office of the Pure Heart of Mary Province (USA) the Carmelites now have a brand-new 4-wheel drive so they can continue to serve people near and far.
The Carmelites operate three school campuses in Zumalai. This makes the need for a reliable car even more important. While one school is located in the centre of Zumalai, two schools are in the rural villages of Raimea and Beko.
New School Principal, Br Antonio, uses the ute to travel between the three schools. It is used for school excursions, transporting staff and students to community events and to travel to regional centres such as Suai for meetings at the Department of Education and Maliana for meetings with the Diocesan Education Foundation.
Br Antonio also used the new ute during the Youth Engagement program last December to attend events, and also to provide transport for young people from remote villages. And he along with the other Carmelites drive through river beds to get to several chapels in the more remote areas of Zumalai, where they conduct weekly services on rotating basis at these chapels.
The ute is providing the Carmelites not only with reliable transport but also the ability to carry bulky items, such as bags of rice or chairs for an event, and to mount a microphone and speaker system in the ute tray to broadcast prayers.
"This new ute is great. We use it all the time for many different activities. It has made a big difference. I feel safe travelling in this ute and can even go to remote villages when it is raining and the roads are in bad conditions." Br Antonio
"I drive this ute several times a week. It is really good to drive, very smooth and a really strong ute. I can go on difficult roads and I feel safe driving this ute because it is so strong." Joao (driver)