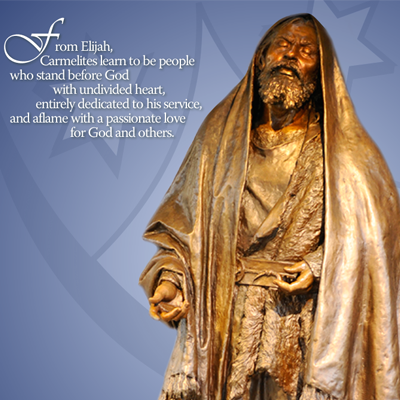 Today Carmelites throughout the world celebrate the Solemnity of the Old Testament Prophet, Elijah. In the Carmelite tradition Elijah is regarded as the spiritual father of and a source of inspiration for Carmelites.
From Elijah, Carmelites learn to be people who stand before God
with undivided heart, entirely dedicated to his service,
and aflame with a passionate love for God and others.
Carmelites allow themselves to be led by the Spirit
and by the Word that has taken root in their hearts,
to bear witness to the presence of God in the world.
In Elijah they see how to live with each other and all people
as channels of God's tender love,
especially for the poor and the humble.
The story of Elijah is found in chapters 18, 19 & 21 of the First Book of Kings, and chapters 1 & 2 of the Second Book of Kings.