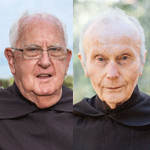 Carmelites, Fr Maurice Barry and Fr Jerome Watt are celebrating their 60th anniversary of Ordination this month. Fr Maurice was ordained on 12 July 1959 at Clonciffe College, Dublin and Fr Jerome on 26 July at St Patrick's Cathedral, Melbourne.
Fr Maurice has worked in formation, been a teacher both in Ireland and Australia and worked in parishes and hospital ministry in Perth, Melbourne and Geelong.
Fr Jerome completed a degree at Melbourne University and then a doctorate in Canon Law at the Lateran University in Rome. He went on to lecture in Canon Law and work in various Diocesan Marriage Tribunals. He has also been involved in the formation of young Carmelites, and a Chaplain, Prior and Pastor in Brisbane and Perth.
We warmly congratulate Maurice and Jerome and wish them many more years of fruitful service.