This year Timor-Leste will commemorate 20 years since one of the most significant events in the young country's history, the 30 August 1999 Referendum. After a 24 year-long struggle against Indonesian occupying forces, 98.6% of registered voters turned up to vote in the ballot. They were given two options:
1. Do you accept the proposed special autonomy for East Timor within the unitary state of the Republic of Indonesia?
2. Do you reject the proposed special autonomy for East Timor, leading to East Timor's separation from Indonesia? A clear majority, 78.5%, voted for independence, or 'separation from Indonesia'.
To mark this milestone, Mayra Walsh (Community Development Ministry Coordinator for the Carmelite Province of Australia & Timor Leste) interviewed Fr Augusto Galhos about his memories of that time. Fr Augusto is currently the Assistant Priest at Our Lady of Mount Carmel parish in Zumalai, Timor-Leste. This is what he had to say…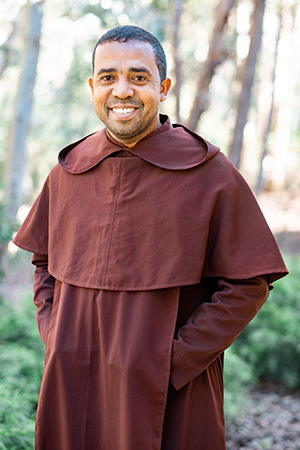 "I was 24 years old in 1999. I was a Carmelite student, studying in Flores, Indonesia. Our Carmelite leaders in Indonesia gave ten of us East Timorese students permission to take leave from our studies and return to Timor to participate in the popular consultation.
I forget the exact date we left Flores. It was about one week before the vote on 30th August. It took one day and one night on the ferry. In the past when we travelled on an Indonesian ferry, we were free to move around, to go outside and have a look around. But at that time the ten of us stuck together. We didn't move. We ate together and sat together. It was tense.
When we got to Timor, the situation was 'hot'. There was intimidation. The pro-Indonesia groups would say things like 'if you want to choose independence, you are risking your lives'. But we thought: we have risked our lives for many years already. This is an opportunity for us to decide our own future. Even in a situation which made us feel scared, unsure, distressed, we had our principles.
In Dili, the ten of us split up, each going to our own family's home. I was with my family in Bidau, on the eastern edge of Dili. We didn't have mobile phones back then, so it was difficult to contact each other.
People in Dili prepared for the referendum just like in other elections. What I mean is, the two groups held campaigns. On the 26th of August they held the last big pro-independence campaign. Lots of people were dancing together, it was really spirited. Then on the 27th of August was the last pro-autonomy campaign. There were lots of Indonesian flags up everywhere. Next, everything went quiet.
On the 30th of August 1999, I woke up early. We ate before we left because we didn't know how long it would take. I was with my mum and my sisters. It wasn't far. We walked about 2km to get to the local primary school, SD Bidau Masaur, where the United Nations had set up a voting station. There were voting stations set up all over Dili. All over the country.
I felt really happy about being able to vote. And I was also worried that I might make a mistake.
Before we left home, we reminded each other to do it properly. We knew they had prepared nails, and we had to use the nail to put a hole through the ballot paper. We had to get it right so that our vote was counted.
At the voting station, everything was organized really well. There were United Nations officials there, and Timorese officials too. Also volunteer observers from different countries. There were two lines. We waited patiently in line until it was our turn. There was no-one making any threats because everyone could see. The UN were there. The Indonesian military and police were there providing security. It was a secure place and our votes were secret. I didn't feel scared when I voted.
The voting station was open from 8am, and by 1 or 2pm it was all done. In the afternoon it was empty. In fact, the whole city was empty and it was very quiet. Once we'd voted, we went straight home and stayed at home.
After the 30th of August, people started to leave. Everyone knew that once the results were announced, there would be problems. Big problems. No-one told each other, but each person or family started to pack their things and go to the mountains, go somewhere safer. Because the militia lived among us in our neighbourhoods, we couldn't tell each other what our plans were. People didn't even tell their own the children. They were scared their children would say something to the wrong person. So, they just quietly left.
On 31st August us ten Carmelite students gathered together in Motael. It was difficult for us to get out of Timor. There were some scary moments. But, thank God, we were eventually able to leave Timor and all of us made it safely back to continue our studies with the Carmelites in Indonesia.

Now, as an East Timorese citizen, I'm so happy to be celebrating the 20-year anniversary of the referendum. I'm proud that we have our freedom. If we compare today with the past, with colonial times, I feel that we are suffering. But you know, in the past there was change and development, but we weren't in charge of it. Now at least we are in charge of our own country, our own land.
We need to look at how to work together, to collaborate to fulfil our newfound freedom. In the past we had the principle of 'dead or alive, we want freedom'. We were united with this principle. But now this principle has lost its significance. Now people are focused on their political party, their family, their particularly group.
How can we come together again? To embrace diversity, reject discrimination, work for peace, work for the good of all. This is what we need to do to really feel freedom. With freedom comes responsibility. Love for our nation, and love for each other, no matter who we are. Now we need to work hard to achieve wellbeing for our people with the freedom and independence that we have."