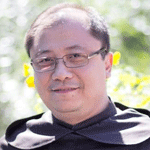 As well as electing Fr Mícéal Prior General yesterday, the General Chapter also elected Fr Benny Phang as Vice Prior General, Fr Michael Farrugia as Procurator General and Fr Christian Körner as Bursar General.
Over the past 6 years Fr Benny, from the Indonesian Province, has served as the General Councillor for our region of the Order (Asia, Australia & Oceania). Fr Michael, from the Maltese Province, was re-elected as Procurator General - the Order's Canon Lawyer and liaison with the Holy See. Fr Christian, from the German Province, has served the past 6 years as Vice Prior General and has been elected to a new role as Bursar General for the Order.
We offer our congratulations and prayer to Benny, Michael and Christian as they take up these important roles for the Order.
The election of the four General Councillors will take place today.