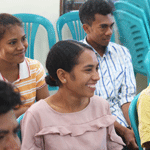 Recently, 18 current and past students, who have received a scholarship from the Carmelites, gathered together for the first ever Scholarship Student Retreat at our community in Hera.
While some students live with their families in Dili, or the Carmelite communities in Hera or Fatuhada, several past students travelled from their rural villages to participate in the retreat.
The day was facilitated by Br Agostinho Dos Santos with the objective of providing a safe space for students to build relationships, learn new skills, enjoy some reflection time and develop a deeper sense of Carmelite spirituality.
Fr Bruce Clark opened the retreat with a prayer, welcoming the students to the Carmelites' community house in Hera. The retreat focused on a variety of topics including freedom and responsibility, Carmelite charism, and critical thinking skills. The students also spent some time getting to know each other.
Our scholarship students are supported through a variety of programs, ranging from completing senior high school to university degrees in Public Health, Agricultural-Business, Petroleum Engineering, Tourism and Management, and Law.
The retreat finished with a group discussion where they collectively decided to establish a student group in order to maintain connections with each other and the Carmelites.