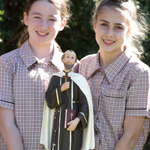 On the feast of Carmelite Saint Nuno Alvares Peirera, Our Lady of Mount Carmel Community, Coorparoo (QLD) gathered to bless and name the newest multipurpose learning space at their primary school. The building was named Nuno, in honour of St Nuno a Portuguese national hero and Carmelite saint, canonised in 2008. It is the first building in Australia named in honour of Saint Nuno and will provide a modern flexible learning space for grade 5 and 6 students of Our Lady of Mount Carmel school.
Fr Wayne Stanhope OCarm. led the ceremony of blessing and naming of the building. In his reflection during the ceremony Fr Wayne highlighted the strong sense of social justice and care for the poor that Nuno lived out in his life as a lay Carmelite brother. Fr Wayne encouraged students and teachers to take the example of St Nuno as an inspiration for their responses to social justice issues in the local community. Fr Wayne also presented a statue of St Nuno for the new building to the school, a gift from the Carmelites of Portugal.
Those attending the ceremony included the current grade 5 and 6 students of Our Lady of Mount Carmel Primary School, the school leadership team, members of the local Carmelite community, OLMC school board members, Mr Michael Kearney (Director of Brisbane Catholic Education), and the building architects from Macksey Rush.