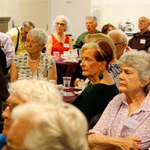 We recently invited our donors in Victoria to join us for a Thank You High Tea. About 70 donors came along and were joined by Carmelites and staff. Fr Paul Cahill (Prior Provincial) opened the event with prayer.
Mayra Walsh, our Community Development Coordinator, shared with us some stories about the positive impact our programs are making in communities in Timor-Leste. Because of donors' support, we are able to help our schools in Zumalai and Raimea by providing them with teaching resources to use in their classrooms. And we are supporting 19 volunteer teachers in our schools by providing them with a small monthly allowance.
Mayra also spoke about our Youth and Engagement Program which provides sport and cultural activities for young people and is assisting vulnerable youth in the Zumalai area to combat social exclusion.
Br Albino Dos Santos spoke about his journey with The Carmelites. When he was studying in Timor-Leste his life was hard, but he feels blessed to be part of the Carmelites family and grateful for the support of our donors. One of our donors spoke to us about his passion for the education program for children in Timor-Leste and the formation of Carmelite students and our young Carmelites, Albino, Marco and Avelino, thanked our donors in a traditional Timorese song.
Thank you to everyone who supports our life and ministry in both Australia and Timor-Leste. You make so many things possible for the Carmelites and the people we serve.
If you would like to support the Carmelites, please contact Nancy Mercurio on 03 9690 8822 or at This email address is being protected from spambots. You need JavaScript enabled to view it.