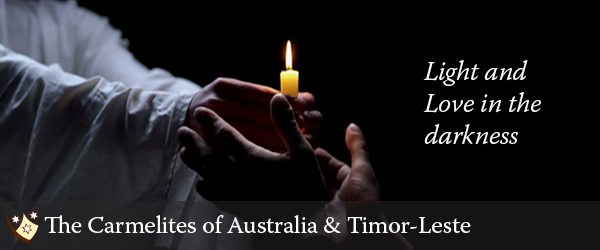 The Carmelites of Australia & Timor-Leste offer you our support in these uncertain and difficult times.
We are praying for the whole world, and especially, for all those who are members of our wider Carmelite Family.

Each week we will offer a variety of prayers, reflections, Lectio Divina and liturgies to celebrate at home when you cannot celebrate in Church - our Celebrating at Home series.
Reviving our spirits
As things creep gradually back to 'normal' more stories are emerging of the stunning array of ways in which people have been helping each other during the lockdown.

It's been interesting to listen to their stories – how many helpers found new purpose and hope in the wonderful and creative things they are doing for others. How what they are doing has transformed what might otherwise have been an anxious time spent vegging out on Netflix and snacks. For both givers and receivers spirits have been revived and hope refreshed.

Pentecost Sunday celebrates the first coming of the Spirit of Jesus on his followers. The gifting of the Holy Spirit is a continuing event in the life of every believing person and, therefore, in every age of human history. The Holy Spirit is the presence of God with us.

Our feast on Sunday helps us understand that we take the Holy Spirit with us into the events and tasks of each day. That is how we allow the sacred to touch, heal and transform us and the world around us. All those people who have been reaching out and helping others are signs to us of the richness and vitality of the Spirit in our own day. Not all of them would be believers, but all of them are making God present to people in need – just like Jesus did. It can be humbling to realise that sometimes it is people outside the Church who teach us how to really follow the Lord.

Our Celebrating At Home liturgy for this Sunday includes a special prayer of commitment to live strongly and powerfully as the people of God by allowing the Spirit to continue to touch the world and bring it to life through us.
Download our Celebrating At Home liturgy for this Sunday or use the links below.
Celebrating At Home for Pentecost Sunday PDF
Celebrating At Home for Pentecost Sunday for iPhone & iPad
Lectio Divina for Pentecost Sunday PDF
Lectio Divina for Pentecost Sunday for iPhone & iPad
We continue to hold you all in our hearts and in our prayer.

You can also This email address is being protected from spambots. You need JavaScript enabled to view it. the names of people you would like us to remember in our prayer. You can order our Gift of Prayer cards to let those you love know we are praying for them. You can also ask us by phone (03) 9690 8822 or This email address is being protected from spambots. You need JavaScript enabled to view it. to put you in touch with one of our Lay Carmelites to chat with you or a loved one.

Remember, you are not alone - we are praying for you and your loved ones.

'The light shines in the darkness, a light that darkness cannot overpower.' (John 1:5)

The Carmelites of Australia & Timor-Leste
You can subscribe to our newsletter by entering your details below.