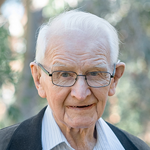 Today the Carmelites of Australia & Timor-Leste are mourning the loss of Fr Leo (Pat) Harney who died peacefully in the early hours of this morning. He was 99 years old and had been a Carmelite for 73 years and a priest for 68.
Pat served generously in Carmelite parishes in Australia and New Zealand, as a relieving priest in many country diocesan parishes and as long-time Chaplain at St Vincent's Private Hospital in Melbourne (VIC). Read more
In announcing Pat's death Fr Paul Cahill (Prior Provincial) said, "Pat endeared himself to many people with his friendly manner and his pastoral "touch" and zeal. In the years he lived at Middle Park of more recent times, he was a "hit" with the locals, both those who came to Church and with whom he celebrated daily Mass as well as those in the local civic community with whom he enjoyed mixing socially. He was a great devotee of Mary, Our Lady of Mount Carmel, and found great joy and nourishment in the Eucharist, the Divine Office and daily Rosary. May he rest in peace."
Born in 1921 in Elmore (Victoria), Pat was the second of eight children. He remembered his home life as filled with daily rosary, morning prayer and Sunday Mass. "Our faith was just part of our lives," he once recalled. It was this faith that led Pat to decide to become a priest.
At 25 years of age, Fr Pat started his Novitiate, made his first profession as a Carmelite in 1947 and by January 1952 was ordained in the Sacred Heart Cathedral in Bendigo (Victoria). As a Carmelite, Pat served communities near and far across Australia and New Zealand as Pastor, Prior, Assistant Novice Master, Chaplain at Sacred Heart College, Glen Innes, New Zealand. He also served for 16 years as Chaplain at St Vincent's Hospital in Melbourne (Victoria). "I've been everywhere, man!" he loved to quote from the famous song, when asked about his many places of ministry. Pat was not only well-known but much loved by so many people and communities, having served at every parish the Carmelites ever held in Australia and New Zealand and having filled in for priests who were on leave.
Fr Pat's journey in life was intrinsically connected to his faith and love of God. "Throughout my life, the hand of God has guided me in a remarkable way and still does." Not one for slowing down even after retiring from active service in 2010, Fr Pat continued to celebrate morning Mass at Our Lady of Mount Carmel Church in Middle Park (Victoria) until the COVID-19 restrictions forced the suspension of daily mass.
He will be greatly missed.