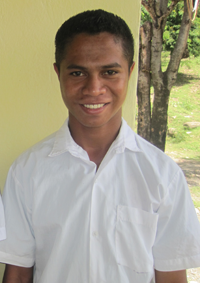 Sabino, 20, is in Year 12 at high school in Zumalai. He lives in the Carmelite boarding house – here he has a place to live and study, food to eat, school books and uniform. Sabino wants to study English and computer skills when he finishes high school.
"The Carmelites teach us to pay attention to our studies and show us we need to be grateful for this experience by praying to God and sharing in daily prayer with the Carmelites' he says. He doesn't want to fail.
Sabino is very aware that as the oldest male in his family (his father died in 2009) he must study hard so he can get a good job to look after his mother, 10 brothers and sisters.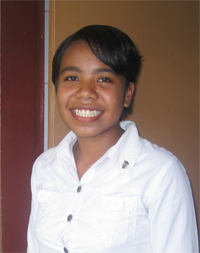 Then there's Gloria, who showed courage and initiative in asking The Carmelites for help.
Gloria, 19, comes from Zumalai and after completing a 12 month course in English received a scholarship from The Carmelites so she can study in Dili University. Gloria dreams of becoming a teacher, teaching English in the parish primary school and to youth in Zumalai.
An education will enable Gloria to be employed and earn an income to support her family. At the same time, Gloria will make a valuable contribution to her students and other young people by helping them learn English which will increase their chances of future employment.
As Sr Rosemary says, "It's amazing to see the transformation of these young people - to see them striving to become something, to change the circumstances of their families, their communities and their own selves."
Our Mission Partners provide courage, hope and dreams for the next generation.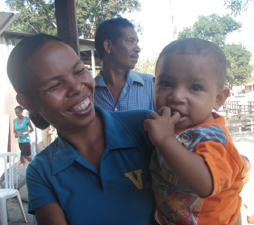 Lucinda is too ill to look after Louis, her 18 month old son. She has asked the Carmelites to find a family who will care for him. She hopes her son never experiences poverty. In order to grow up well, Louis will need lots of love, nutritious food, safe drinking water, vaccines to help build up his immune system and an education so he can eventually find work. For the next 18 years Louis will depend on caring people like you to help him grow up and break free from poverty.
It's a big commitment we are making to Louis, Gloria and Sabino. Without the inspiration of St Therese we wouldn't have the courage to ask. Without the courage of St Therese we wouldn't have the confidence to believe that together we can help them.
Over 30 caring Mission Partners believe in our mission in East Timor. They help us, through monthly gifts, to provide the practical means to transform lives and rebuild hope.
Why not join them?
Contact us for more information: (03) 9690 8822 or This email address is being protected from spambots. You need JavaScript enabled to view it.