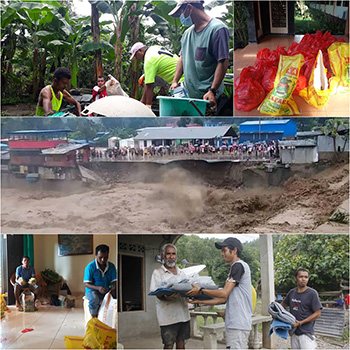 Our young Carmelites in Timor-Leste have been helping to distribute food and household goods and clean and rebuild houses following the devastating floods in Timor-Leste. The local parish in Hera has become a refugee centre for many people who have lost everything in the disaster. Closer to Dili, our Carmelites in Fatuhada have also been helping out with food, clothing and transport for people affected by the crisis.
Many refugees have gathered at religious houses seeking shelter and food. Due to the COVID risk masses and religious gatherings are suspended, but our Carmelites have been going among the people offering what support they can.
You can help our Carmelites in Timor-Leste in their efforts to offer comfort and concrete support to the people of Timor-Leste. Please make your donation here: https://timor-floods-emergency-appeal.raisely.com. Thank you for helping us to help them.