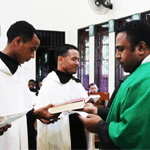 Yesterday 15 of our young Carmelites in Timor received the ministries of Lector (reader) and Acolyte during Mass in our community at Hera. Lectors proclaim the Word of God in liturgical assemblies, instruct adults and children in the faith and prepare them to receive the sacraments. Acolytes assist the priest during the celebration of the Eucharist, holding the Missal, preparing the altar and the vessels and cleaning them after Communion. They may also distribute Communion if necessary. For those preparing for Priesthood in the Church, receiving these ministries is another step on their journey to Ordination.
The brothers who received the ministry of Lector were: Brs Samuel Lopes, Lucas dos Santos, Alipio Godinho, Antonio Jonias de Glória and Joao Caunan.
Brs Caetano Soares da Silva, Paulo Martins de Araujo, Jacob dos Reis Carvalhos, Celestino Soares, Elias Soares Sin, Domingos Nautus Quefy, Isaías de Jesus Martins, João Fernando Cabal, Fernando Gusmão and Bonificio Bragança Lopes received the ministry of Acolyte.
Fr Carlito da Costa Araújo (Provincial Delegate) admitted the brothers to these ministries on behalf of Fr Paul Cahill (Prior Provincial) who was unable to be present due to COVID restrictions. Congratulations, bothers!