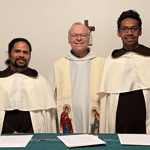 On 16 July, the Feast of Our Lady of Mt Carmel, Brs José Natalino Freitas and Anacleto Guterres Da Costa renewed their Vows for another year. The ceremony took place during Mass in the Carmelite Community at Middle Park. Fr David Hofman (Formator) received their Vows on behalf of Fr Paul Cahill (Prior Provincial) who could not be present due to the Coronavirus lockdown in Melbourne. In renewing their Vows José and Anacleto have committed themselves to their Carmelite formation journey for another year.
José and Anacleto arrived in Australia from Timor-Leste in 2019. After a year of English language studies they began their Bachelor of Theology degree in 2020 at the University of Divinity, Melbourne. Both are involved in the Carmelite Parish of Port Melbourne/ Middle Park on the weekends as sacristans, servers, readers and Eucharistic ministers.
Congratulations and prayers, José and Anacleto.