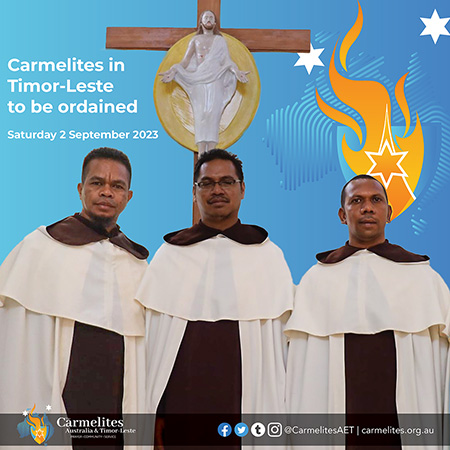 Our Deacons, Brs Narcizio Da Costa Vilanova and Amandio Soares Salsinha, will be ordained priests in Hera on Saturday 2 September by Cardinal Virgílio do Carmo da Silva, Archbishop of Dili. During the same ceremony, Br Silvestre Alves will be ordained a Deacon. A large crowd of family, friends, religious and priests is expected both at the ceremony and the celebrations to follow at the Carmelite Community in Hera.
Narcizio will celebrate a Mass of Thanksgiving at St Therese of the Child Jesus Parish in Ossu on 9 September and Amandio at Our Lady of Fatima Parish, Railaco, Emera, on 23 September.
Congratulations, Narcizio, Amandio and Silvestre - our thoughts and prayers are with you.
PHOTO (L-R): Brs Silvestre, Narcizio & Amandio